Chambers and Super Lawyers agree on what makes a strong nomination
February 26, 2015
Managing the legal directory submission process is the biggest pain point for legal marketers when it comes to completing nominations for ranking guides like Chambers & Partners and Super Lawyers.
This finding came during a poll of attendees at a panel session on "The Do's and Don'ts of Successful Nominations" held last week at the Legal Marketing Association 2015 convention in San Diego. A distant second pain point for those helping draft legal directory submissions was managing the expectations of partners.
Considering legal directory rankings can be a source of credibility and pride – as well as a cause of stress and frustration – it is no surprise one of the longest lines at the three-day convention was to chat with speakers following the panel, which featured Chambers USA editor Laura Mills and Super Lawyers publisher Cindy Larson.
While the nomination process for Chambers and Super Lawyers may be very distinct, during the panel Mills and Larson joined fellow speakers to discuss the following submission weaknesses and strengths on which they agree: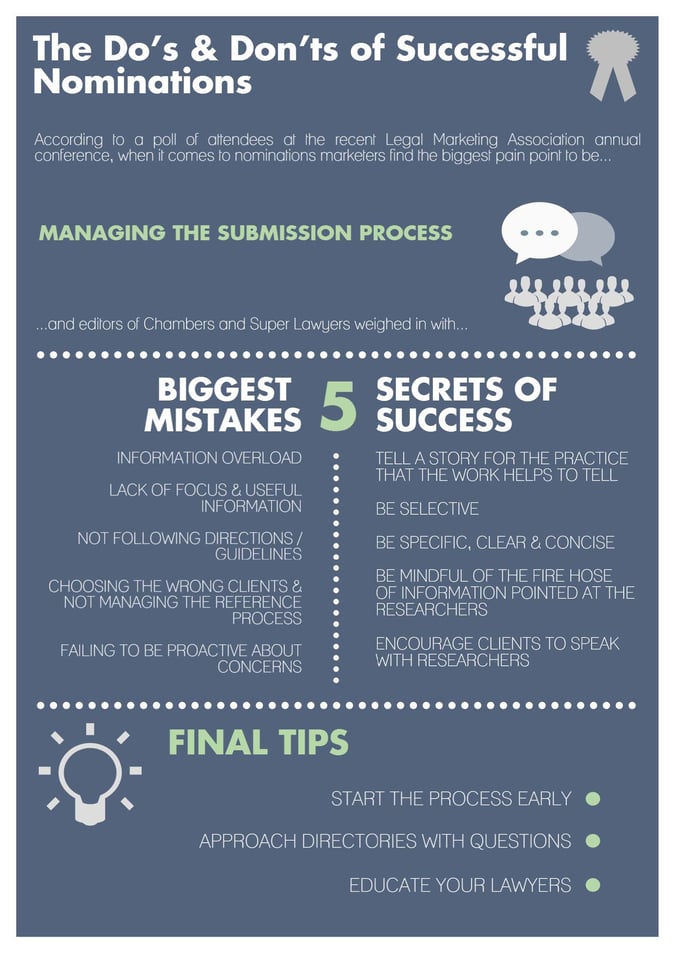 Need help with your law firm's legal directory submissions? Infinite Global's Content Center team can help your firm create a legal directory strategy, guide you through the best practices for legal directory submissions and manage your firm's submissions. Contact us for more information.