Infinite Global named to PR News' Top Places to Work in PR
November 29, 2018 • 1 minute read
PR News once again recognized Infinite Global as one of the "Top Places to Work in PR," marking the second time that the communications firm has received the accolade. Infinite was among the honorees recognized at the PR Awards Dinner on November 28 at the Edison Ballroom in New York.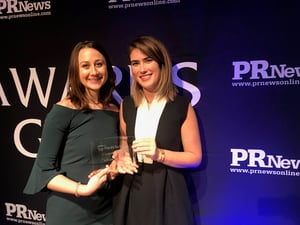 The annual awards highlight firms that excel at in-house and client public relations work, as well as invest extensively in their employees' personal development. The program welcomes submissions from public relations agencies, communications departments within a corporation, nonprofits, government organizations, associations and NGO's from all over the world. A panel of public relations executives and PR News staff select winners based on criteria including, growth opportunities, benefits, culture, mentoring, diversity, career development and training, volunteerism and gender equality.
"At Infinite, we pride ourselves on providing competitive opportunities and benefits for our employees," said Infinite CEO Jamie Diaferia. "If you walk through our door, you'll encounter some of the sharpest, most ambitious and engaged employees in the industry. Though I've been saying for years that we have one of the best places to work, it's validating and humbling that others in the industry recognize this as well."
Infinite has also been recently recognized by O'Dwyer's as one of the top PR firms serving the professional services sector, as well as by The Homes Report in its Global Top 250 PR Agency Ranking 2018 list.