Q&A: New Orleans–based legal marketer on making the most of #LMA18
April 3, 2018
This is the second of two Q&A columns Infinite Global is publishing in the lead-up to the Legal Marketing Association's 2018 Annual Conference, to be held April 9-11 in New Orleans.
We recently sat down with New Orleans–based Katherine McCoy Rivera, Communications & Public Relations Manager at McGlinchey Stafford and a former leader on the LMA Southeast Region's Baton Rouge-New Orleans Local Steering Committee, for her advice on how to make the most of your time in the Big Easy.
Can you recommend some can't-miss spots for people to check out in New Orleans?
Try to get the full New Orleans experience: Eat someplace fancy, have a po'boy, enjoy a good cocktail, experience the fine arts, and get out there and explore. An old-line restaurant will provide a quintessential New Orleans dining experience. Some favorite places of all types: Commander's Palace, Domenica, Katie's, Coquette, K-Paul's, Drago's (chargrilled oysters are a must), Pizza Delicious, Cake Café, Company Burger, Port of Call, Crabby Jack's, Creole Creamery, Angelo Brocato, Dong Phuong, Banh Mi Boys. I could go on — clearly, there's no shortage of great food here. (You can do better than Mother's, however, so don't bother with the crazy-long line.)
You can also grab a beverage of choice (in a "go cup," no glass on the street!) and explore the French Quarter and Marigny. You have my permission to skip Bourbon Street entirely; head to Frenchmen, Magazine or Freret streets instead.
For another off-the-beaten-path experience, I love neighborhood dive bar Twelve Mile Limit and wine bar / backyard paradise Bacchanal. Crescent Park offers a great view of the city from a new angle. Take a streetcar and head to Audubon Park or City Park, the latter of which is home to the wonderful New Orleans Museum of Art.
Live music is also abundant; check the WWOZ Livewire for a current schedule.
What are you most looking forward to with #LMA18?
Beyond my excitement to see friends and colleagues from all over the country, I'm looking forward to the PR and communications sessions. I learned a great deal from leaders in our industry at LMA '16 in Austin, the most recent LMA meeting — and very first annual conference — I've attended. The conference was seriously energizing and transformative, and influenced the way I approach my role as a communicator. LMA is one of the few places where everyone in the room understands the challenges of marketing a law firm and lawyers, and that shared experience makes it easier to go back to our firms and tackle our toughest projects. I can't wait to experience and contribute to that again.
Right now, I'm focused on a number of projects involving content and social media. I'm eager to hear about what firms are doing in these spaces and how BD teams are working with their PR counterparts to reshape law firm communications and tell the stories of our firms' successes.
New Orleans is known for its food, music and history. Is there something about the city's culture that you think doesn't get enough recognition?
There's a lot going on here in terms of young talent and entrepreneurship. It has been interesting to observe this growth, and exciting to watch friends develop successful small businesses and lead growing organizations. Some local businesses have also been making waves on a national level, which is cool, and I hope we're going to see this trend continue. The somewhat recent focus on entrepreneurship here has helped small businesses find their footing, and the result has been the development of a tightly knit network of people and nonprofits working to forge connections for funding, talent and resources.
How can conference attendees maximize their time in New Orleans?
There's so much near the conference that can be explored by taking a long walk. Just get out there and explore! It's fun to experience the city without a plan and make little discoveries on your own. New Orleans has a special way of making you feel like a piece of the city and moment in time will always be yours. If you have more time to venture out, I can't stress enough how wonderful it is to visit as much of the city's geographic footprint as possible.
We have great unofficial spokespeople for New Orleans on Instagram who provide a local's perspective and tips on what's new and good. I like to recommend my friend Susan, @nolamaven, or others like @amournola or @iheartnola. Social media is a great way to discover New Orleans.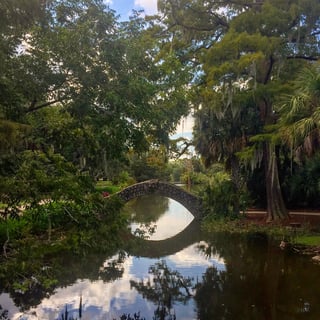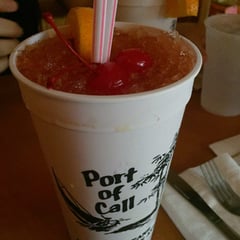 (L: one of many foot bridges in City Park, R: one of Port of Call's signature drinks, the Monsoon)
We look forward to seeing you in New Orleans at #LMA18. Find us on Twitter or get in touch with Sophie Cikovsky, Jesse Dungan, Tali Robinson, Kelsey Eidbo, Caitlyn Foster or Ada Oni-Eseleh.