We unveiled the first virtual reality, walkable 'website' in the legal industry. Here's what happened …
June 1, 2017 • 5 minute read
Unless you live under a rock, you'll know that virtual reality is getting a lot of attention. The announcements about ground-breaking ideas and tech just keep coming. In the last few days:
Major League Baseball has announced that, starting June 1, live-streamed games will be available in virtual reality through Google's Daydream VR app.
At its developer's conference, Google unveiled a stand-alone device offering VR to anyone willing to purchase it (you don't need a specialized phone).
Among other prominent stories in the last few days: Online financial services company Worldpay unveiled a system to make credit card payments inside VR experiences; Samsung penned a deal with UFC, X Games and Live Nation to stream events immersively to fans with headsets; the University of Nevada's football program announced it will train athletes using VR; and the US Navy announced its recruiting program will now employ VR.
Google has even announced that its Chromium project team's goal is to make every website viewable in VR. That's right marketers: This means that as soon as you think you have your head around websites, apps and digital marketing, they go and change not just the rules of the game but the entire playing field.
In short, VR is going places. The only question is, will our industry embrace this change now, or five years from now once everyone else already has? Considering the potential of VR in professional services, I hope it's the former.
Infinite Global in VR
At Infinite Global, we've been looking at VR technology for almost two years. We're fascinated by its potential for communicating complex ideas in engaging, memorable ways — a seemingly perfect platform for our firm's clientele of professional services firms whose bread and butter happens to be complex ideas.
We thought, what better way to understand this technology and its potential for our clients than by using it ourselves? And so, at the recent Legal Marketing Association conference, we unveiled a VR experience created with HTC Vive technology (headset plus hand controls) that can be considered, roughly speaking, a VR version of a website.
It features a giant globe that users spin with their hands while interacting with pins on the globe that represent our company's main offices. Tapping unveils more content as well as a trip to the streets of New York City, thanks to 360° video integration.
We ran close to 200 attendees through the experience at LMA with the two headsets available at our booth. Here's how we benefited and what we learned:
Results before and during
According to those who visited our booth, the experience was a success. An in-booth survey asked VR users to rate the experience in our booth versus others at the event. We found 91 percent of visitors who tried the VR rated our booth either "impactful" or "extremely impactful" as compared to other booths.
Here are some other ways that the project has helped boost our marketing, social media and recruiting efforts during the month that we unveiled the experience:
Web traffic: Increased 101 percent as compared to the year before.
Social: LinkedIn impressions increased 200 percent, engagements 170 percent; Twitter engagements increased 140 percent, and impressions per tweet increased 46.3 percent.
Recruiting: The month we unveiled the experience we received the largest pool of resumes we have ever received — a 354 percent increase as compared to other hiring rounds. Many applicants (as well as recruits and current employees) have expressed interest in learning more about VR.
Teasing reality from hype
Virtual reality is often touted as memorable and impactful, but because the technology is so new to marketing, we wanted to try to study whether this was true. So, in the weeks after the event, we conducted follow-up calls with as many booth visitors as possible to understand their impressions about our company as well as what they experienced at the event. Here's some of what we learned:
For 68 percent of respondents, this was the first VR they had ever tried, illustrating how the tech is still new (and thus desirable) to many, and can therefore be a great choice to augment any event.
Fully 100 percent of respondents said they wanted to try VR again.
When asked for their impression of Infinite Global after the experience, feedback included: "Creative, innovative, forward-thinking," "Impressive and cutting-edge," "It was one of the most innovative things I did at LMA," "It helped me get to know your firm better."
When asked whether there were applications for our industry, 68 percent replied either "agree" or "strongly agree," 21 percent gave no opinion and 10 percent disagreed.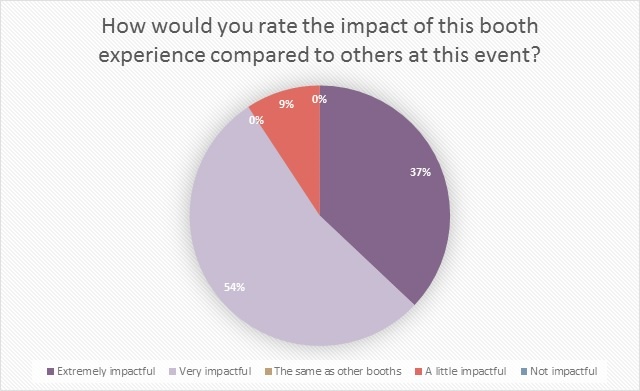 The results and feedback we've received both during the event and in the weeks after demonstrate that VR is, indeed, a powerful marketing tool. It also underscores that users don't need to be chased by zombies or ski down Kilimanjaro to have an epic VR experience.
"Sounds awesome, count me in. But will you be offering Dramamine?"
This quote from a prospect invited to our booth encapsulates the enthusiasm coupled with apprehension that is the state of VR today: untold promise but also challenges to overcome.
It is true that some bad VR is giving negative impressions. Experiences crafted without proper UX can cause motion sickness, leading people to reject VR. As the industry matures, I'm confident that the spread of best practices will mitigate this.
Another challenge for marketers is trying to sell VR to bosses who have never tried it and thus have no context for understanding it. As headsets become more common, this challenge will diminish — yet, sadly, so too will the opportunity to wow clients and prospects with tech they've never used before.
A final challenge is the equipment itself, which can be cumbersome. But this concern was wiped from my brain when, two weeks ago, I attended VR World in London, where the range of technologies showcased — from lightweight headgear that projects 3D architectural renderings to haptic tech that teaches dentists how a Novocain syringe feels when in a patient's jaw — took my breath away and revealed how very fast this industry is moving.
It won't be long before headsets are wireless, ubiquitous and almost as light as sunglasses.
The future
While there are hurdles, the chance to be an early adopter of this technology, beating a path and finding creative solutions, is worth it. As is the chance to share this technology with others.
Seeing someone try VR for the first time is like watching a baby eat her first ice-cream: The wonder is awesome to observe. This was true at our event. But what I enjoyed most was the brainstorming that took place after the headset was removed. Having the experience triggered many visitors to think about how they could use this platform to augment efforts at their own companies.
At the end of the day, I feel, if all we achieved was to give people the chance to step outside of the norm, try something new, and be inspired, then I think we at least did our job. Fortunately, it looks like we accomplished much more.