Digital Placemaking: A definition for urban regeneration
March 15, 2018 • 5 minute read
As part of Infinite Global's campaign, 'Placemaking: Buzzword or Brand Builder?', we spoke with experts across the Real Estate community as they seek to deliver places that resonate with people.
In her guest blog, Dr. Jo Morrison (Programme Director: Digital Innovation) gives us an insight into how Calvium are pioneering the concept of digital placemaking.
Increasingly, we experience the world around us through some form of digital technology.  In the home, intelligent voice recognition systems act as our personal assistants, in our cars we find our way by using Sat Nav, and we entertain ourselves by hunting for Pokemon characters in streets and green spaces. So, we are accustomed to creative technology helping us to interact with, and understand, the places where we live, work and play. This 'cultural norm' provides professionals involved in all aspects of urban regeneration with a massive opportunity to enhance people's experience of physical space through digital placemaking.
Like 'smart cities' and the 'Internet of Things' there are multiple ways in which digital placemaking can be interpreted and explained. As digital placemaking is central to Calvium's world, we thought it important to present our own brief definition of the phrase and practice:
DIGITAL PLACEMAKING (NOUN);
THE AUGMENTATION OF PHYSICAL PLACES WITH LOCATION-SPECIFIC DIGITAL SERVICES, PRODUCTS OR EXPERIENCES TO CREATE MORE ATTRACTIVE DESTINATIONS FOR ALL.
What does this mean in practice?
HYBRID SPACE
For urban regeneration projects, digital placemaking fuses physical space with digital space to develop a new 'hybrid space'. Hybrid space is the location where digital placemaking happens.
Hybrid space is created by inviting new forms of digitally-enabled services, products and experiences into built and natural environments, enhancing or even transforming the way an area is understood. Content is tailored specifically to the location, helping make public spaces more meaningful and attractive, in turn optimising we experience them.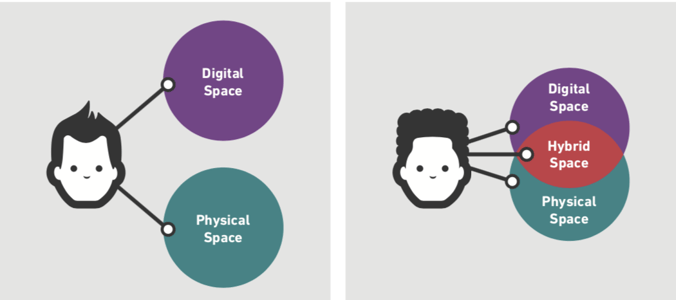 Hybrid space is a key strategic element in the successful development of public spaces – as confirmed by our recent research into the creative use of digital technology to enhance Cardiff's major Porth Teigr development.
As part of our research, we created augmented reality (AR), audio, digitally connected and app-based installations to enable Porth Teigr's residents, workers and visitors to experience the neighbourhood afresh. People were surprised when street furniture, activated by digital proximity sensors, started talking to them and others enjoyed using AR sightseeing binoculars that overlaid historical and future images on to the current dockland landscape to create a truly immersive 3D experience.
These installations show how hybrid space provides a valuable expansion to the ways that people can experience and appreciate the physical space around them. Digital placemaking is the practice that creates these successful hybrid spaces.
DIGITAL PLACEMAKING
Digital placemaking is central to urban innovation. Irrespective of technological approaches, digital placemaking is concerned with improving relationships between people and places. It is a collaborative process, where people from various communities inform and influence the ongoing development of the public realm. It achieves this through multi-stakeholder engagement – both to identify the opportunities for location-specific digital technologies to add value and to deliver positive solutions.
Including 'digital' to the approaches, methods and tools used within urban regeneration projects not only expands the creative toolbox: it makes it possible to explore a location holistically, uncovering new ways of engaging with a place. In doing so, digital placemaking increases the opportunities for communities to connect meaningfully with a place – strengthening the social, cultural, environmental and economic experiences of people in towns and cities.
One major redevelopment harnessing the opportunities offered by digital placemaking is London's iconic Battersea Power Station. As part of its £6.8 million Cultural Programme, Calvium created an augmented reality heritage tour and bespoke mobile games to bring the rich history of the area to life in ways that were previously impossible. As such, people are able to experience and understand the location anew, making Battersea a more meaningful location.
Adding 'digital' to 'placemaking' challenges how we think of urban space and place – and has the potential to profoundly shift our experience of the public realm for the better.
For us, the question is 'why wouldn't you?' Why wouldn't developers, urban planners and designers – or anyone involved in trying to make our towns and cities better places for people to live, work and grow up in – embrace the opportunities that digital placemaking affords? The potential benefits for a regeneration project are clear, and now is the time to trial and test innovative digital placemaking interventions in all areas of the development cycle.
Calvium are experts in digital placemaking. They create location-specific digital services, products and experiences that enhance, or radically transform, people's relationship with natural and built environments. To do this, they operate at the intersection of software engineering, creative storytelling and collaborative design. This expertise has led Calvium to build innovative digital placemaking experiences for some of the most recognisable brands and landmarks in the UK, such as: Battersea Power Station, Tower Bridge, Historic Royal Palaces and the National Theatre.